Pop-Up Pantry Enters Year Number 2
Food distribution occurs the fourth Tuesday of each month
ASW Global has served as a host for the Akron-Canton Regional Foodbank Mobile Pantry since June, 2022 ASW CEO André Thornton wanted to determine the best way for ASW to partner with the Akron-Canton Regional Foodbank. In March of that year, Dan Flowers, the Foodbank's President & CEO, met with ASW representatives Jonathan Thornton (who also served on the Foodbank's Board), Angelia Leggett, and Nicole Stephens to discuss options. From that meeting came the plan for ASW to host a pop-up pantry once a month.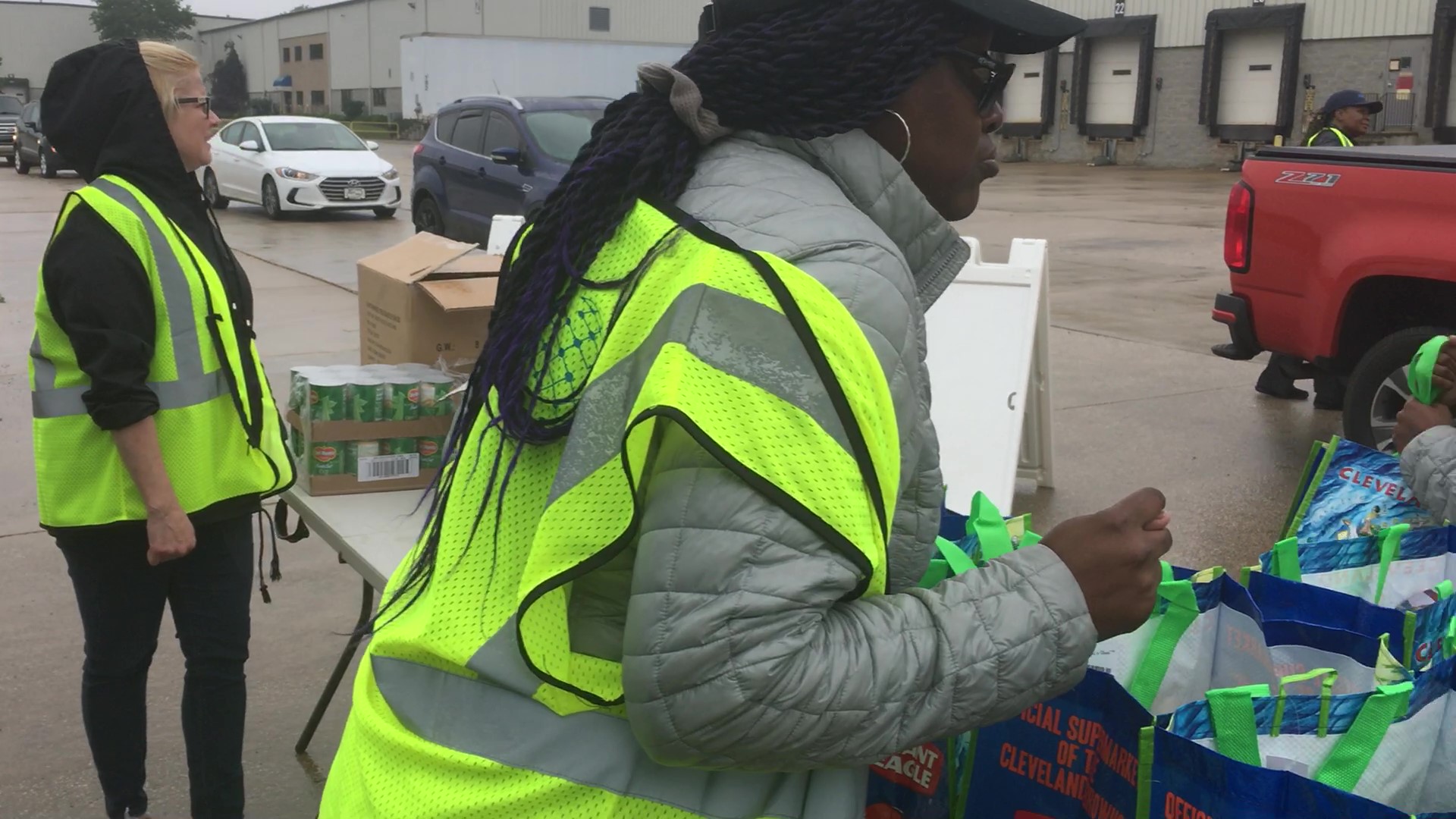 For the Foodbank, the mobile pantry provides a way to expand its partnerships in geographic areas that have the potential to provide the biggest impact. For ASW, the mobile pantry allows ASW associates an avenue to give back to the community through volunteerism. Several associates have recruited their family members and friends to volunteer, as well.
The mobile pantry is a drive-thru food distribution. From 5 to 7 pm, on the fourth Tuesday of each month, ASW hosts this distribution on their main campus in Mogadore, just outside of Akron city limits. When the distribution partnership began, it took place mornings on the fourth Saturday of each month. The change in day and time has increased the number of individuals and families served. Since the partnership began, the number of families served has more than doubled.

Typically the Foodbank holds the pop-up pantry at non-profit locations, including local school partners. ASW Global is the only for-profit company in the area that hosts the Foodbank's pop-up pantry. Local residents experiencing food insecurity can stop by any of the pop-up distributions offered by the Akron-Canton Foodbank. Pop-up distributions are listed on the food bank's website: https://www.akroncantonfoodbank.org/need-food. The next ASW-hosted pantry will be Tuesday, July 25.

We interviewed some individuals who have been involved in the ASW-hosted pop-up pantry to provide a better perspective on the partnership.
ASW Global: Why is it important that ASW hosts this food distribution outreach?

Mallory Pilz, Akron-Canton Regional Foodbank Program Outreach Coordinator:The Foodbank's mobile pop-up pantry allows nourishing groceries to be distributed into neighborhoods where there are limited food resources. It serves as an innovative way to offer food access to struggling communities. The vehicle was designed to be nimble and flexible, giving the Foodbank the opportunity to test a location and neighborhood to gauge what the need is, and to see how receptive community members are to the service. We're grateful that ASW Global recognized a need in their community and took action to serve their neighbors.
Paul Nonno, President/General Manager, ASW Supply Chain Services: ASW Global believes very strongly in supporting and giving back to the local community. We do this throughout the year and in many different ways. Partnering with the food bank has been an excellent way to support local families in need.
ASW Global: In what ways have ASW Associates helped make this a success?
Nicole Stephens, ASW Global HR Specialist: ASW associates volunteer to help distribute food to the families that come to the mobile food bank. Associates help setup the pop-up by bagging food and other items in preparation for distribution, load up families' cars, and help clean up following the pop-up.
ASW Global: How important are volunteers to the work of the Foodbank, including this initiative?
Mallory Pilz: The Foodbank was able to provide as many as 23.3 million meals to its eight-county service area because of the support and generosity of the community. Volunteers are instrumental in the Foodbank's hunger-relief efforts, providing more than 55,000 service hours in 2022. ASW Global providing volunteers to support the pop-up pantry's efforts allows the Foodbank to serve neighbors in need who may otherwise not have access to nourishing groceries. ASW Global volunteers, and others like them, are key in ensuring this important work happens each and every day and we're so grateful.

ASW Global: How have you been impacted by volunteering your time?

Katherine Green, Global Promotions & Incentives, an ASW Global Company Account Coordinator: I volunteer for the mobile pantry because it's about giving back. A lot of people experience tough times and need help and I know what it's like to be in that position. The mobile pantry has helped me in those tough times, so just being able to volunteer and know that I am helping families that need food is very rewarding to me.

The experience has been amazing! It's a great way to just get out there and make a difference. Everything is very streamlined and we all work together as a team to make sure we are able to help everyone that is in line quickly and in a professional manner.
ASW Global: You have had family members volunteer with you. What has it been like having them donate their time with this initiative?
Angelia Leggett, ASW Global Administrative Assistant: Having my family donate their time was great. They got to see how they could really impact someone's life. My nephew thought it was cool to help people and show them that someone cares. When you bring young people into volunteering, I believe it creates a sense of empathy for people and the recognition that they can touch someone's life for the better.
Nicole Stephens: It is fulfilling to have family volunteer with me, especially my daughter. It's important to me that she learn service through giving back.
Paul Nonno: My wife and I have encouraged our children to volunteer and give back to the community and it has been a great opportunity for us as a family to do just that at our monthly food distribution events. This has also been the case with many ASW employees who have also volunteered their time along with family members so beyond getting the chance to meet, support, and help the local community, we have had the pleasure of meeting family members of our associates who have volunteered to support this very worthwhile event.