Recently, Vice President of Supply Chain Services Carlos Stevens celebrated his 35th year with ASW. Carlos joined ASW after serving in the United States Marine Corps. He started his tenure off with ASW in the Rubbermaid division, working 3rd shift as a forklift operator. He was a young father of a newborn and needed a job with no idea what career path he wanted to follow.
Carlos later moved into our polymer division and then moved to the Rubbermaid patio furniture division. In 1996, he spent several months in Beaumont Texas getting a new ASW operation up and running. He returned from his stint in Texas to work again in the polymer division. In 2001, Carlos became the General Manager of our Sam's Club division in North Canton. Then in 2007 he was promoted to the position of Director, ASW Supply Chain Services. Finally two years ago, Carlos was promoted to the position of Vice President. To say Carlos has experienced a lot with ASW is an understatement! The fact that Carlos was placed in so many different operations also attests to his reliability, flexibility, and adaptability—as the team needed someone with his skillsets to help get new operations off the ground.
When asked about his fondest memories with ASW, Carlos pointed to his work with our polymer division, then known as Gilchrist Polymer Center. At the time, the division was a 24-7 operation. These days, Carlos most enjoys providing problem analysis with ASW. Identifying issues, problem-solving to devise solutions, and overseeing the application of these solutions is where he thrives.
Carlos has three adult children and two grandchildren. He is a widower, but recently became engaged. He and his fiancée Carrie met through his work with ASW.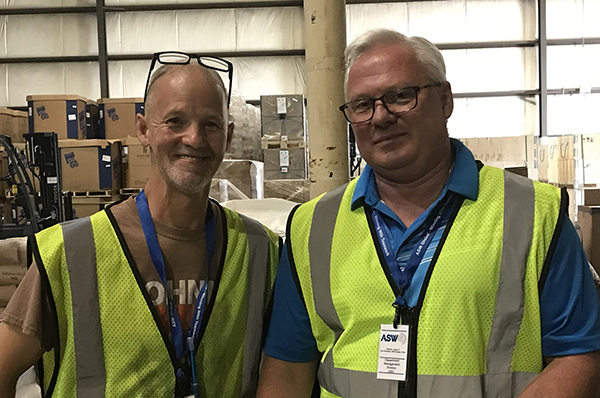 At his 35th anniversary lunch, Carlos poses with Production Supervisor Jon Supple.