For Jonathan Supple, Working at ASW Is an Extension of His Faith
ASW's polymer packaging operation is under the supervision of Jonathan Supple. He has been with ASW for 30 years. Jonathan views his job as "working for God, not for man." He is a man of faith and his Christian values are reflected in the work he does and the ways in which he interacts with people.
The Barberton native joined ASW through a temp agency two years out of high school. He did not view higher education as an option, but wanted to secure a good job. Jonathan started out unloading trucks by hand on one of the docks. During his breaks he used his time learning how to drive forklifts. Once his supervisors learned of his proficiency, he was able to become a forklift operator.
Jonathan was promoted to Packaging Supervisor two years ago after being responsible for Inventory Control. Over the years, it has been important to him to show that he is a dependable worker. During his time with ASW he has "learned so much, such as the importance of teamwork and how one person's absence affects everyone else." Jonathan believes his people skills are an asset in his position. He believes it is important to get to know the people he supervises and to take the time to understand them, in order to know their best qualities. Jonathan's demeanor and can-do attitude make it easy for others to follow his example.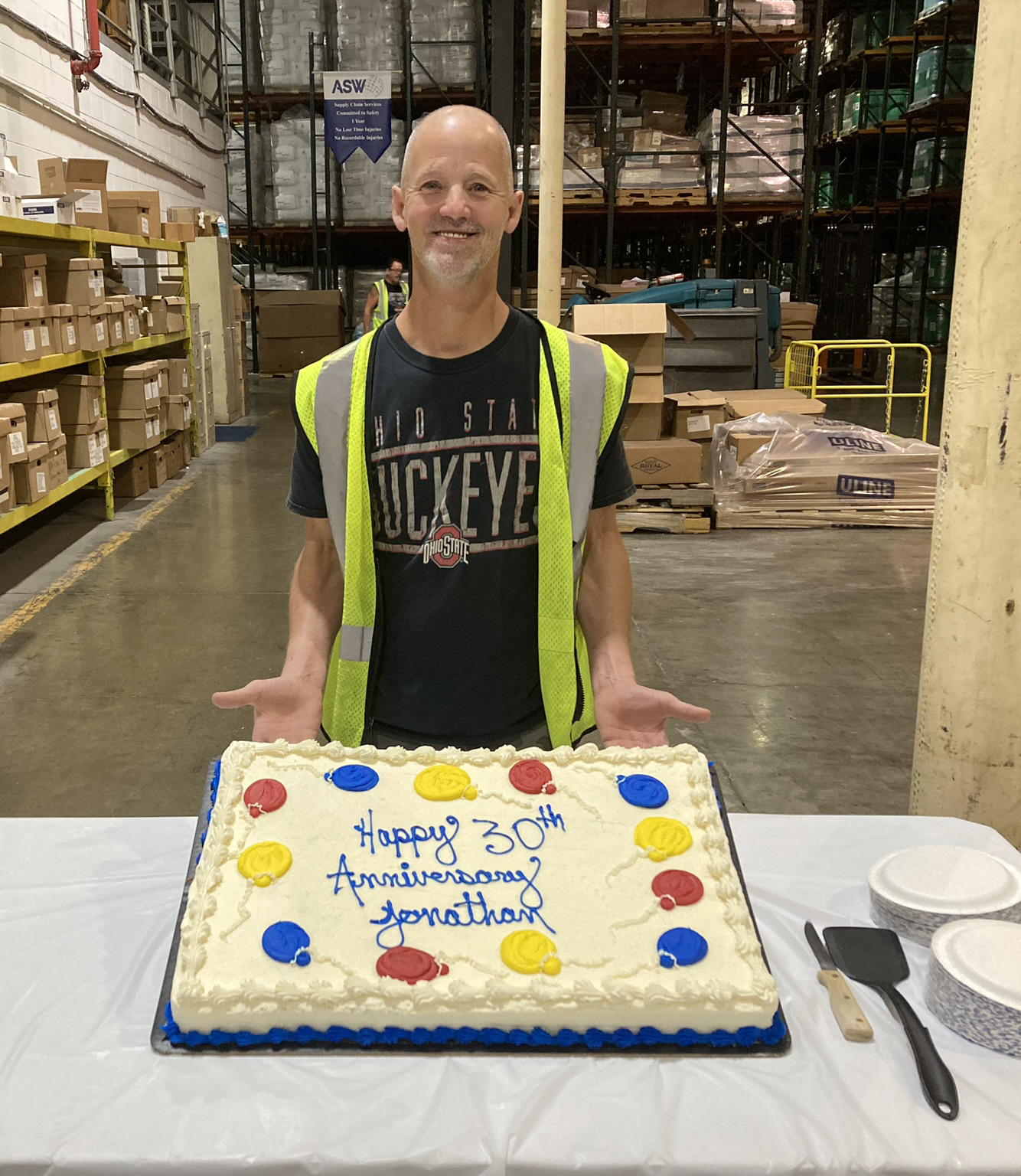 For Jonathan, God is first, then his family. He sees his job as a way for him to serve God. His wife, Kathryn, has helped him to understand the importance of his faith. Jonathan is appreciative of the fifth week of vacation he has earned, as well as his Monday through Friday work hours because family time is very important to him.
Jonathan and his wife Kathryn have been married for 23 years and they have been blessed with 3 children. He describes his 21-year-old as a "God loving young lady." She works with children. His 18-year-old daughter is a senior at Norton High with a 4.72 GPA and a Metro Athletic Conference championship in girl's tennis doubles. His son is 15 and an honor roll student at Norton High who runs cross country and track. His wife is the Assistant Director of Early Intervention at the Summit County Developmental Disabilities Board. The family enjoys hiking, camping, playing games, going on vacation, and volunteering together. Recently, they volunteered at their church with Feed My Starving Children, which packages and sends food to people in need who live in developing nations.